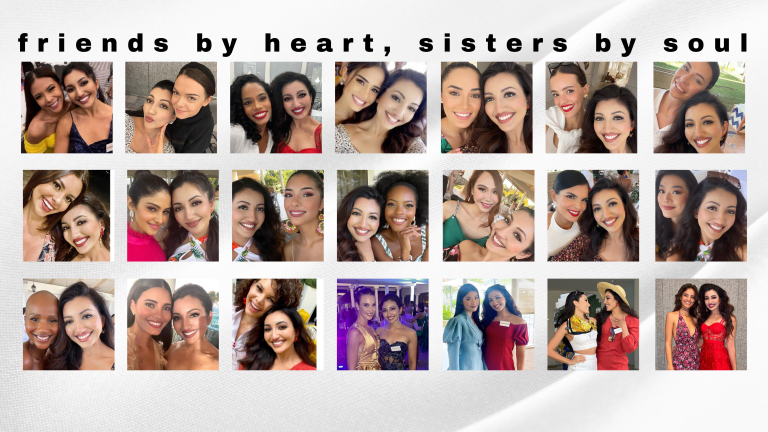 100 Friends by Heart and Sisters by Soul in Puerto Rico
Every time, I spoke with a @missworld sister, I felt like I got transported to a different part of the world. I found 100 teachers in my 100 friends.

Here are my sisters on this pic.
Miss Mexico 🇲🇽 @karolinavidales
Miss Venezuela 🇻🇪 @alejandraconde21
Miss Poland 🇵🇱 @karolinabielawska
Miss Paraguay 🇵🇾 @bethania_borba
Miss Equatorial Guinea 🇬🇶 @lucila_benita_mbuy_
Miss Peru 🇵🇪 @paulamonpas
Miss Bolivia 🇧🇴 @alondra_mercadoc
Miss Indonesia 🇮🇩 @carlayules
Miss Brazil 🇧🇷 @carol_gteixeira
Miss Puerto Rico 🇵🇷 @arymarie2
Miss Dominican Republic 🇩🇴 @emmypena_
Miss Belize 🇧🇿 @markeishay
Miss Curaçao 🇨🇼 @alvinettesoliana
Xoxo sister Shree 🇺🇸
Now I've homes across the world to visit and I am so ready to be the most loving hostess when they visit mine 🤩
At @missworld we daily continue to celebrate sisterhood. We help one another, we love, we listen, we care and just like true sisters, we don't judge.
We have to stand near and by each other, #pray for one another, and share the joys and the difficulties that women face in the world today. That is true #sisterhood for me.
Here's to creating ♾ sincere friendships and a positive impact.
No matter where we all come from, there is one common language that we all share and, that's the language of love, #sisterhood and service ❤️
I want to continue inspiring women and men all around the world 🌎
to feel at ease, to feel empowered and to not hold back because of limiting beliefs.