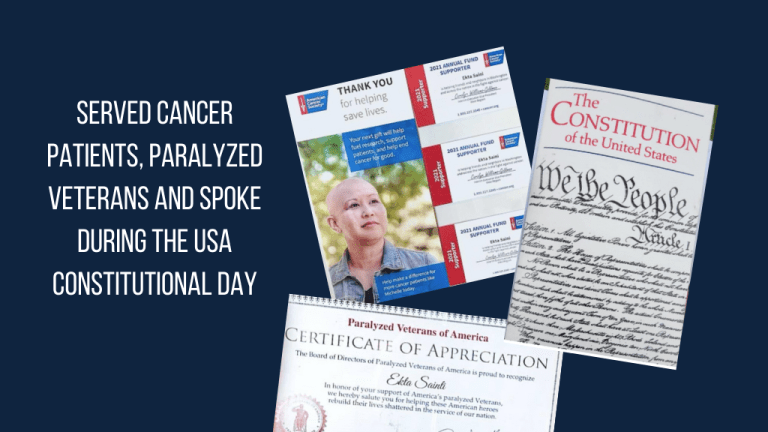 Supporting Paralyzed Veterans of America, American Cancer Society, and Speaking at US Constitutional Day
My family had the honor of working alongside "Paralyzed Veterans of America"
On April 8th, President Biden congratulated Paralyzed Veterans of America on their 75th Anniversary milestone.
My family received a thank you note from this charitable organization for the time we donated and funds we raised.
For over 75 years, PVA has been a support system for our nation's paralyzed and disabled heroes.
The organization has developed a unique expertise on a wide variety of issues involving the special needs of their members – veterans of the armed forces who have experienced spinal cord injury or dysfunction.
PVA use that expertise to be the leading advocate for: quality health care for members, research and education addressing spinal cord injury and dysfunction, benefits available as a result of members' military service, civil rights and opportunities that maximize the independence of their members.
The American Cancer Society's mission is to save lives, celebrate lives, and lead the fight for a world without cancer. We join them in their mission and serve them wholeheartedly throughout the year.
The American Cancer Society has programs and services to help patients to manage cancer treatment and recovery and find the emotional support needed. And best of all, their help is free!
In Washington state they have numerous programs and resources: https://www.cancer.org/about-us/local/washington.html
Invited to speak at USA Constitutional Day
Invited to speak at USA Constitutional Day, 🇺🇸 alongside WA Representative Alex, Senator Judy, Commissioner Cory Wright.

We spoke about how America is healing.
We are Learning
We are Growing.
We are making positive change.